Hugo Boss is a big fashion brand, but it's not really very prevalent in South Africa. We've all heard of it, but you don't see the clothes much. The only store I know if in Cape Town is at the Waterfront and I must admit that I have spent some time checking out the clothes in the window on more than a few occasions. I have a fairly conservative style, so the Hugo Boss suits with their clean classic lines, quality fabrics and quality finishes, really appeal to me. Obviously they do a lot more than suits, they have several clothing ranges and some of them are not conservative at all.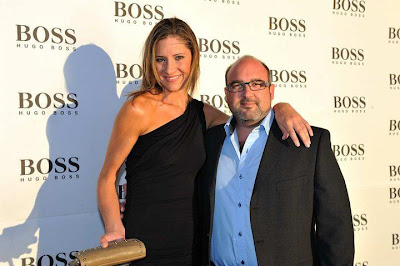 Unfortunately I can't really afford to shop at Hugo Boss. The closest I come is my watch and my eyewear. So I was quite excited to receive an invite to the Hugo Boss launch party for their Spring/Summer range. I had an inclination that it was going to be a serious event when the invitation was hand delivered to me. Then I saw that it was being organised by the multi award winning Greater Than PR team, so I knew it was safe to start getting a little excited.
The invitation revealed that it was being held at 'The Castle' on Nettleton Road, Clifton. That's the highest road in Clifton and all the houses there cost about R60m plus. Obviously an occasion to bring out the suit (which is sadly not Hugo Boss) and find myself a hot date. The fine results are plain to see in the pic above.
We arrived at the 'Castle' and it was immediately evident why they call it that, it's absolutely massive! There were over 500 people at the party and we could all fit in the back garden plus the ramp and the bar. The view from up there is definitely one of the best views in Cape Town. We promptly got stuck into the complimentary Moet and tasty canapes. We mingled with the rich and famous, explored the house and watched the fashion show. Which was the most disappointing part of the evening, it was so short that I hardly saw one item. I was really hoping to check out the new range. They did have mannequins in some of the rooms. I love the suit on the left in this photo but I would wear it with a different shirt and tie and I would lose the pink handkerchief.
It was a very impressive function and I hope it achieves what it was meant to for Hugo Boss. Obviously I was terribly disappointed that there were no goodie bags packed with Hugo Boss merchandise. But that won't stop me saving for the suit in the window.